Al Nabooda Automobiles auctions Carpool Karaoke

Volkswagen

Touareg to support Al Jalila Foundation
Al Nabooda Automobiles auctions Carpool Karaoke

Volkswagen

Touareg to support Al Jalila Foundation
United Arab Emirates
September 1, 2021
Al Nabooda Automobiles and

Volkswagen

auctions off a one-of-a-kind Touareg filmed in Season 3 of Carpool Karaoke, signed by some of the most famous celebrities in the Arab world.

100% of all proceeds will be donated to the Farah program of Al Jalila Foundation to support children's medical treatments.

Farah is Al Jalila Foundation's paediatric program providing urgent and specialized medical treatment to children.
Al Nabooda Automobiles, the exclusive dealer for Volkswagen in Dubai and Northern Emirates for over 45 years, is proud to auction off the one-of-a-kind Touareg featured in Season 3 of Carpool Karaoke.  The unique flagship model has been signed on the panoramic sun roof by each celebrity and singer that was showcased on the show. 100% of the purchase price will go directly to Al Jalila Foundation to support medical treatment for children in need.
Al Nabooda Automobiles together with Volkswagen Middle East have agreed to auction off the Touareg used in Season 3 and donate all the proceeds to Al Jalila Foundation to support the Farah program. Founded by His Highness Sheikh Mohammed Bin Rashid Al Maktoum, Vice President and Prime Minister of the UAE and Ruler of Dubai, Al Jalila Foundation is a philanthropic healthcare organisation dedicated to transforming lives through medical innovation. The Farah program specifically focuses on paediatric needs, including children suffering from heart disease, cancer and other chronic illnesses.
Carpool Karaoke is an Arabic TV program aired on Dubai TV and is hosted by Lebanese personality, Wissam Breidy.  Season 3 welcomed guests including Emirati singer, Ahlam Al Shamsi; Yemeni-Emirati singer, Balqees Fathi and Lebanese celebrity, Nadine Nassib Njeim. Each celebrity and singer is featured having a candid conversation and singalong session with Wissam Breidy in the Volkwagen Touareg. As a premuim model and part of the brand's SUV line up, it boasts exceptional technology features including a state-of-the-art digital 'Innovision Cockpit', which merges a high definition 15-inch touch screen and a 12.3-inch Active Info Display. Passengers can also select ambient interior lighting from over 30 colour options. In this exclusive partnership with Volkswagen in Dubai, Al Nabooda Automobiles provided the Touareg for the show.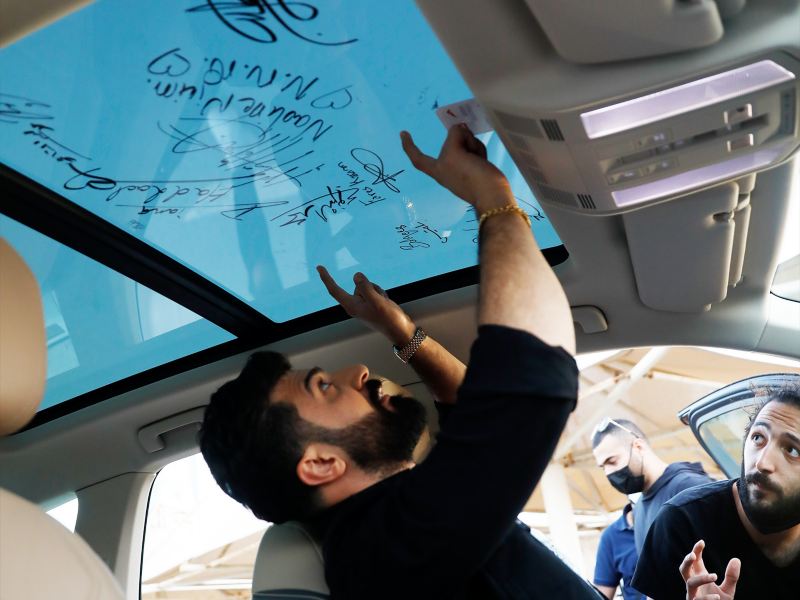 K. Rajaram, CEO at Al Nabooda Automobiles commented, "We are very proud to auction off the unique Touareg for a cause that embodies our family values, by supporting children in need of medical care. Al Nabooda Automobiles is a family-owned and focused business, operating in the UAE for 45 years and it brings us much joy to support a great local initiative such as Al Jalila Foundation."
Victor Dalmau, Managing Director at Volkswagen Middle East said, "Volkswagen is, and always has been, a people's brand, designed for families and focused on moving people forward. Being part of a remarkable initiative that supports the wellbeing of children through medical treatment is exactly the type of human focused projects that we're proud to be part of."
Dr. Abdulkareem Sultan Al Olama, CEO at Al Jalila Foundation said, "Our Farah program helps vulnerable children receive the medical treatment and care they desperately need. There is no greater joy than giving children and their families hope for a healthier, brighter future. We are grateful to Al Nabooda Automobiles for choosing Al Jalila Foundation as the beneficiary of the funds raised from the charity auction of the Carpool Karaoke Touareg."
The starting price of the auctioned Touareg is AED220,000 and all silent bids above this amount will be accepted. Anyone wishing to make a silent bid in the auction can do this online at Volkswagen Middle East's website (cpk.volkswagen-me.info) or by physically visiting the Al Nabooda Automobiles showroom on Sheikh Zayed Road in Dubai. The auction will be live for 6 weeks from September 1st to October 13th.