Tailor made
for the Middle East
Volkswagen

Teramont: An SUV that caters to the tastes of the Middle East customers 
July 28, 2020 – Customers across the Middle East like to have plenty of space in their vehicles. This is also true of the luggage compartment. Because 7-seater SUVs make even big objects really easy to transport, and help large families travel together, many residents are downright crazy about them. It is not just out in the wide open spaces that these vehicles help people enjoy life to the fullest, but they provide value to everyday family activities, hence becoming the go-to segment for families across the region.
The large SUV segment is an ever-growing segment in the GCC and across the rest of the Middle East in general. More and more customers prefer the high seat position and the comfort of a large Sport Utility Vehicle to that of a saloon. While the latter still accounts for the second-largest vehicle segment in the Middle East, sales volumes and the share of notchback models are currently in decline. The trend clearly points to SUVs.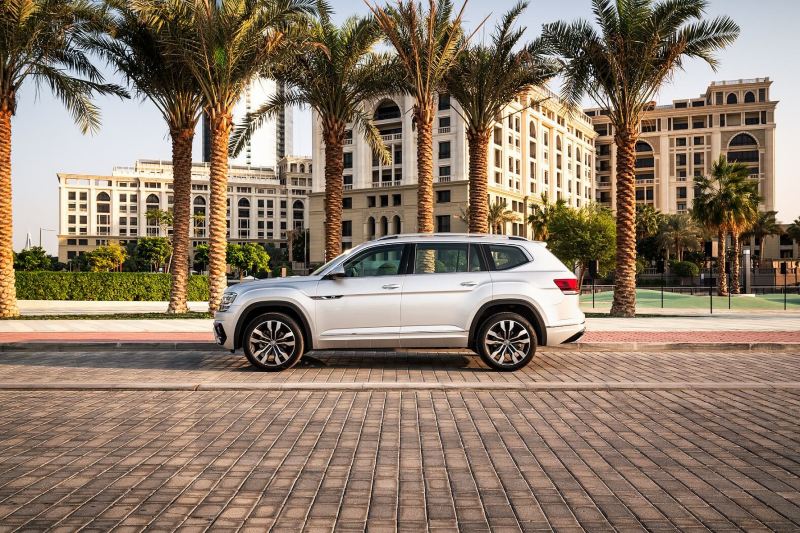 Volkswagen introduced the Teramont in the Middle East in 2018 with spacious adventures in mind. A vast region with a spectrum of terrain to explore, a love of driving and discovery are part of this region's culture and everyday lifestyle. It therefore makes sense that the Teramont became the ultimate family car, and this was reflected in Volkswagen sales across the region. In fact, the Teramont became the best-selling model of the brand, accounting for a 1/3 of overall sales for Volkswagen Middle East in 2019.
The brand provides an SUV that caters to the tastes of the Middle East customer. The generous dimensions of the Teramont, and its engine specifications, both aim to fully cater to customers' tastes and demands across the region. At more than 5 meters long, the higher wheelbase of the Teramont results in a larger interior space that gives easy third-row access and an extended boot space. Engineered for comfort, the car's cushioned and ventilated seating is coupled with 3-zone climate control. Personalised settings can be configured for the whole car for each individual, while parents can also control media and App connect to two tablets via the 8-inch main display.
Opting for an SUV remains the segment of choice for many families in the Middle East to whom space and comfort are a priority.  With a roomy interior, ample cargo space and easy third row access, combined with a good price point, the Teramont remains the obvious choice for many.